Vigan City , Ilocos Sur Points of Interest
 Explore the top best things to do in Vigan City, Philippines including the top Vigan tourist spots.  
"Outstanding universal value", is a fitting description of areas or objects in which still engraved unto them the culture and history of their past. 
They are called World Heritage Sites designated by the United Nations Educational, Scientific and Cultural Organization (UNESCO). 
 Places like these are valued as cultural treasures and are greatly popular and adored by locals and tourists alike. They are found throughout the globe. An example of such a site is located in the Philippines, in the northern region of Luzon.
What is Special in Vigan ?
Vigan City, a Spanish and Chinese-influenced colonial town, wherein before the Spaniards, Vigan was part of an important coastal trading post with the Chinese in which their trading would take place in the Mestizo River.
 The Chinese would exchange their products with products from the Cordillera region like beeswax and gold. 
The city was known as Villa Fernandina de Vigan in the late 15th century by Don Juan de Salcedo as a tribute in honor of Prince Ferdinand, the son of King Philip II, who died at the age of 4.  
By 1758, a Royal Decree during the reign of King Fernando VI was issued to transfer the Seat of the Diocese of Nueva Segovia from Lallo, Cagayan to Vigan. 
In honor of the King of Spain and an update in status as a city, Ciudad Fernandina de Vigan was the city's renewed name. This triggered an increase in business, trade, and tourism rates. 
Then in 2001, Vigan became the first component of the province of Ilocos Sur known as the City of Vigan. Around 2014, Vigan is named one of the New Seven Wonder-Cities of the World and inaugurated on May 7, 2015.
The City of Vigan is known for its Spanish and Chinese-influenced old infrastructures and cobble-stone pathways which create picturesque sceneries, along with its historic museums and  Vigan various delicacies and attractions that will have you wanting for more. 
Here, we explore the 10 top best things to do in Vigan. They could be found mostly on the famous Calle Crisologo. 
The nostalgic, Hispanic feel to this city will make you feel like you are in the past, strolling through its old streets or riding a kalesa. 
Since it is only a small town, you'll be able to explore all of its wonders in approximately 2-3 days, depending on the weather, making this city popular with locals and foreigners alike.
Related: Best Restaurants in Vigan City, Philippines
If asked whether is it worth visiting or not, you'll have mixed reactions from tourists and locals as we all have different perspectives on things.
 But one can assure you that it is worth your every penny and time to visit the City of Vigan. You'll get to experience and see the various attractions and feel what it felt like in the Hispanic era. 
Immersing yourself in the culture and heritage of this city, socializing with the locals, and letting yourself feel the overall ambiance and history of the place will surely be worthy of your time and expenses, as well as the journey it brings. 
Best Things To Do in Vigan City , Ilocos Sur , Philippines ( Top Vigan Tourist Spots )
1. Stroll Through the Streets of Calle Crisologo (Vigan City )
One of the best things to do in Vigan City is simply visit Calle Crisologo.  Locals also call this street "Vigan Heritage Village", wherein lined here are the ancient Spanish infrastructures, various souvenir shops which showcase the different snacks and products (like
abel
) native to the city and its province, and different snacks and delicacies along with multiple café litter here. 
You can freely stroll here as no vehicle is allowed to enter. The ambiance here differs during the day and night. During the day it feels like you have been transported back in time as you see kalesas and people milling about observing the ancient structures and buying souvenirs. 
At night, an almost sunset glow envelops the streets, making them more peaceful and picturesque, some would say even romantic as it's quiet and only a few stroll here.
 After strolling here, at the end of this street is the Plaza Burgos, and just a few meters away is the Plaza Salcedo.
2. Ride on a Vigan "Kalesa"
Among one the best things to do in Vigan City Philippines is a Kalesa ride. A
kalesa
is like a Vigan version of a carriage, wherein they take you around the city to different historic sites like the different museums and mansions and through Calle Crisologo depending on the deal you make with the
kutsero
. 
Here you can experience the means of transportation before steam and engine. 3 – 4 persons can occupy the kalesa, albeit a little expensive, it is fun.
3. Watch The Dancing Fountain in Vigan City, Ilocos Sur
This is one of the main tourist attractions in Vigan City. At night, dancing lights illuminate the sky showcasing the fountain's wonderful display of water and light dancing along the rhythm and beat of the song currently playing.
 The transitions are so smooth you'll think they're dancing to the tempo.
4. Visit the Vigan Cathedral
( Church )
 The church is one of the top tourist destinations in Vigan.
Saint Paul Metropolitan Cathedral, is another important landmark and tourist attraction that showcases Baroque architecture albeit the church has gone through several renovations to make it sturdier.
 Located just in front of Plaza Salcedo, which is the reason why you might see several tourists taking pictures there.
 This wonderful church is over 4 centuries old and was originally built with wood and thatch in 1574.
5. Vigan Pagburnayan is a Must See
Located in Brgy. Pagburnayan is an ancient, authentic earthenware jar pottery crafted by the potter's own hands with the help of the potter's wheel. 
This is a dying tradition in which there might not be a successor in the future but still greatly enjoyed by locals and tourists as the workers there teach you the ways and techniques on how to create burnay. 
Its tempering material is fine sand or anay, as they call it, and heated in a ground kiln at high temperatures to make it sturdier and more durable.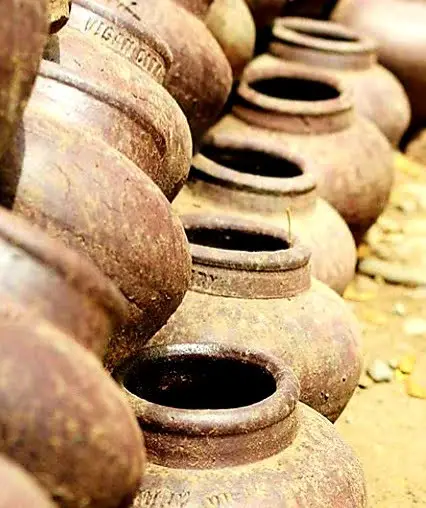 6. Visit the Historic Crisologo Museum
The Crisologo Museum, house of the late Congressman Floro S. Crisologo with his wife. After his assassination at the St. Paul Cathedral, his wife turned their home into a museum showcasing her late husband's antique belongings. 
The museum allows picture taking but no touching. The museum is also one of the best things to do in Vigan.
7. Wildlife Mini Zoo at Vigan Balaurte
Baluarte was established by politician Chavit Singson to help promote the conservation of animals. 
This is located on a hill near the home of the politician wherein they showcase different animals found locally and internationally, an animal museum, and an interactive wildlife show.
8. Explore Historic Syquia Mansion
Multiple museums showcase preserved ancestral infrastructures along with the different artifacts and overall ambiance of what it was like before. The most popular museum is the Syquia Mansion.
The Syquia Mansion is the ancestral home of the wife of the late President Elpidio Quirino. 
Visitors can see paintings and portraits of Quirino's family. The house features artistically high ceilings, hardwood floors, antique wood carvings, and furniture and porcelain figurines.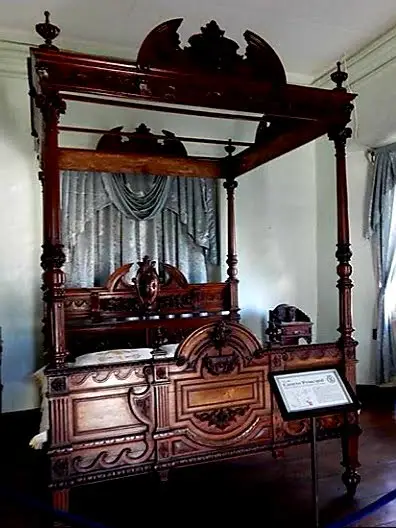 9. Experience Ilocos Bahay Na Bato
The "Bahay na Bato (House of Stone)" or the house of the martyr priest, Padre Burgos, displays his vintage writing tools in his preserved bedroom along with his personal belongings. 
Visitors can view the various antique farming and weaving equipment.
10. Enjoy Vigan Local Cuisine and Delicacies
Delicious treats should always be included in the 10 Top Best Things To Do in Vigan list. Delicacies such as empanada, sinanglao, bagnet, longganisa, tinubong and pinakbet are some of the local food which are popular due to their unique taste and combinations that will surely create a party in your mouth. 
Countless stalls line near Plaza Burgos. Along the Heritage "dirty" ice cream and mango with aramang stalls also litter here. Experience different Vigan cuisine and delicacies is also one of the best things to do in Vigan.
Disclosure: Mindfulness Memories is part of Amazon Associate Affiliate Program.  Posts may  contain affiliate link which Mindfulness Memories receives a small amount of commission from any qualifying purchases at no additional cost to you . Thank you for your support.
More Travel Guide on The Philippines: