Let us explore some of the attractions in Quezon Province Philippines.
   Quezon lies in the CALABARZON region of Luzon Island. It is named after Manuel L. Quezon, the Philippines first freely elected president and the second president in history. It flaunt sandy coastlines, rugged mountains, rich in culture and strong spirituality. 
It is about 110 to 130 kilometers southeast of Manila  or it takes 2 to 4 hours before you are going to reach the province. It has landmarks that holds great cultural and historical, beaches, islands and the devotion to religion and spirituality.
Best Attractions in Quezon Province Philippines
 1.  Villa Escudero Plantations and Resort – is one of the oldest resort in the country that have been present in many local travel magazines, TV shows and websites. It begins as a plantation of sugarcane and coconut in Tiaong, Quezon about 105 kilometers south of Metro Manila. The owner change it into a resort that become a tourist spot.
 The resort provide settlement in green and bright plantation scenery and houses of museum with antique collections. Labasin Waterfalls Restaurant is the most highlighted part because you can see the restaurant at the bottom of the waterfalls. You can dine it here trying out some traditional Filipino dishes while dipping your feet in a shallow water. 
You can also witness Philippine Experience Show wherein it features numerous dances from different regions and styles that is very rare to see. There are activities also to choose from like fishing, bird watching, rafting, biking and swimming.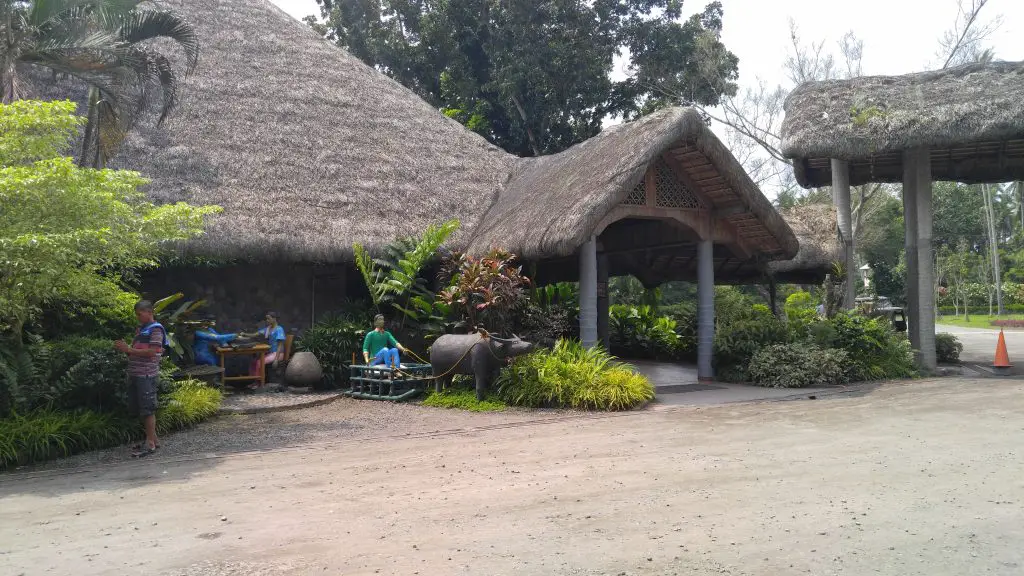 2.   Mt. Banahaw – the highest summit in the Calabarzon region that stands at about 2158 meters and it is located on the boundary of Laguna and Quezon. It multiplex three volcanoes like San Cristobal, Banahaw de Lucban and Mt. Banahaw.
 It is also known for its holy and magical mountain that local people think that hiking in this place will restore your physical and spiritual health. Not only that, the natural springs in the mountain have healing powers. This mountain has caves, streams and rocks. Many of the pilgrims are visiting this mountain espciallly during Holy Week. 
If you reach the peak of this mountain, you will see the stunning view of Quezon and Laguna. You can trail and jump points in the town of Sariaya and Dolores. This mountain is an active volcano that could erupt anytime. So before you are going to visit this mountain, you have to ask first the local officials.
3.    Kamay ni Hesus Shrine – it is also called as Kamay ni Hesus Healing Church. It is located in Barangay Tinamnan, Lucban that is 119 kilometers south of Metro Manila. It is one of the most well known religious site that the formations cover 5 hectares of land. 
It is sacred and spiritual site that many devotees and pilgrims are praying for the healing or repenting for their sins. You can walk around the place and cherish the beauty of nature that is peaceful, relaxing and lush. 
You can also do the 300 step climb to reach the most popular giant statue of Jesus Christ stading on the peak of the hill. You can visit the gift shop and simple children's playground called as Garden of Eden. 
4.  Cagbalete Island – one of the most fascinating spot in Lamon Bay, off the coast of Mauban town of Quezon that has 1640 hectares of land area. This island is gifted with various ecosystem, a home for wide range of plants and bird species and Agoho pine trees that can be seen everywhere.
 You have to ride on a boat to reach this island. While you are in the island, you can do the beach hopping, snorkeling, swimming, fishing, bird watching and horseback riding. 
You must try the outdoor activities like camping, picnic, beach volleyball and other water sports
5.  Minor Basilica of Saint Michael the Archangel – it has a gigantic size, long history, unique in design and the largest Roman Catholic Church in Quezon that is located in Tayabas City and it was built in 1585. 
The floor of the church is a key-like shape and refers as "Susi ng Tayabas" (the Key of the Tayabas). It was proclaimed as National Historic Landmark in 1978 by the National Historic Institute. It was also acknowledge by the National Museum of the Philippines as a Natural Cultural Treasure in 2001. 
The unique features of the church like the church clock that sits on the campanile and measures 50 centimeters high and 42 meters wide with a large old bell and the extra-long aisle with 103 meters, making it the longest church aisle in the country. You will enjoy walking tour in the beautiful church and the Neoclassical interior design and painted ceiling. 
6.  Kamayan sa Palaisdaan – the name is came from the Filipino way of eating seafood dishes using bare hands. It is the most wonderful resort that has hotels, three restaurants, two cafes, one bar, two swimming pools and an eco-park.
 You can also dine on their floating restaurant with 60 floating rustic cottages on a man-made pond. The menus will certainly more on native delicacies like "Inihaw na Hito" (grilled catfish) and Pla-pla (tilapia fish) and the prices are very affordable.
 Enjoy the cool breeze and the green scenery while doing some of the activities like hiking, swimming and horseback riding.
7.  UGU Bigyan's Pottery Garden – this very rare spot is located in Alvarez Village, Barangay Lusacan Tiaong, Quezon that used to be a private home but in the end it became a pottery workshop studio, art gallery and a restaurant in one.
 It is an open grounds and the house has huge windows and red-bricked walls that the feeling of being there is so comfy and relax because of the large trees that surrounds the structure. 
You can explore the pottery garden and grounds and buy some hand-crafted potteries and othe souvenirs. The restaurant is located in the garden area that serves Asian cuisines. There are also rooms available if you want to stay overnight.
8.  Lucena Cathedral – a classical landmark that was built in 1884 and was reconstructed in May 1887 because it was destroyed by fire. It is one of the oldest church that seats of the Bishop of Lucena and it is located in Barangay Poblacion in the central area of Lucena City. 
The patron saint is Saint Ferdinand III, a monk from the 13th century. The cathedral keep its colonial look and beauty that the trademark is the splendid altar which facets the large replica of Jesus Christ on the cross and the high vaulted ceiling.
 The cathedral hosts masses daily and locals love to use the church as their eeting place. You will appreciate the beauty of the church especially inside because it is well preserved and you can wals around the exterior grounds.
9.  Borawan Island – is a tiny island that is located off the coast of Barangay Lipata, Padre Burgos. A significant rapid getaway destinations for nature lover. You need to ride on a boat for 15 minutes to reach the island. 
The name Borawan comes from the combination of Boracay and Palawan. The features of this island is a sand on its shore is powdery white, large giant rock formation, best-loved spot for overnight campers, open air cottages, a restaurant and a hotel. 
This island is also perfect place for families and groups who wants to unwind and relax from hectic work. You will loved to try their offers packages that contains boat tranfers and island hopping.
10.  Sunshine Farm – is located in Lali, Tiaong Quezon. A hundred meters away from Villa Escudero. This sunflower farm was opened in 2018 and it has 4000 sunflower seeds planted.
It became well liked because of the beauty and it also provide a means to PWDs that gives hope and opportunities. You can walk around the farm that filled with hundreds of full bloom sunflowers and have some photoshoots. 
You can visit the farm in the month of  April and May to witness the full bloom of the sunflowers. You can also buy on farm's shop for souvenirs and gifts and invest in the farm's product to support the justifiable living programs of the PWD's. 
Featured Articles on the Philippines