Top Tourist Spots in Zambales Philippines
     Zambales is located in the Central Luzon Region and the capital is Iba. It is best known for its beaches and coves. It has a natural beauty that every tourist is so amazed and captivated with it. It has agoho trees(similar to pine trees) that grew after Mt. Pinatubo was erupted in 1991.
Here are the top tourist spots in Zambales Philippines.
Anawagin Cove –   is one of the best places to visit in Zambales Philippines.  It is known for its crescent shape, white sand beach and private island that every tourist would appreciate the beauty of this cove. 
It is fenced with a vast, tall and evergreen Agoho trees. If you want to camp in the cove, make sure to bring all the necessary materials for cooking, tent, toiletries and etc. It is located in San Antonio, Zambales. 
When Mt. Pinatubo erupted in 1991 it dumped tons of ash on the shore, the cove was formed and currently the cove looks.
Capones Island – this extraordinary bone-shaped island has a white sand and water with different shade of blue as it gets deeper.  
The different forms of the rocks and old-era stairs can be used as a framework in your photo. You can also see the famous old Spanish Lighthouse that was built in 1980 perfect for photoshoots with cinematic view. 
It is also known as Grand Capon o Capon Grande Island that has 1.9 kilometers long by 0.4 kilometers wide. 
Liwliwa Beach –  is another top tourist spots in Zambales Philippines which serve as meditation for surfers. A mixture of quietness and fun energy where the waves are perfect for people who loved to surf. 
It is also famous during sunset because of the view. It is located in San Felipe, Zambales. It is the best place for barkada  (friends)  and family who wants to relax and have a break for a weekdays hectic schedule.
Magalawa Island – is a 56 hectare island in Zambales that became famous now-a-days because of the white sand and perfect sandbar. Its a favorite place for travelers and those who are adventurers. 
It is also called Island of the Stars because they are rich in starfish. It is located in Palauig that is accessible in a 10 minutes boat ride from Sitio Luan. 
The island also have towering coconut trees, rich marine life and sea corals that is perfect for snorkeling and diving.
Subic Bay – one of the most tourist spot beaches in Zambales because it supplied all kinds of travelers who wants to relax and enjoy the weekends or summer vacation. It has spacious rage of alternative, from budget-friendly to very expensive resorts. 
The bay has also amusement parks and wide-ranging island. It is located in Olongapo that has 35 miles northwest of the mouth of the Manila bay.
 It is popular for its historical desolation diving site wherein there is 19 shipwrecks in the area, there is also reef sites, white sand and crystal clear waters.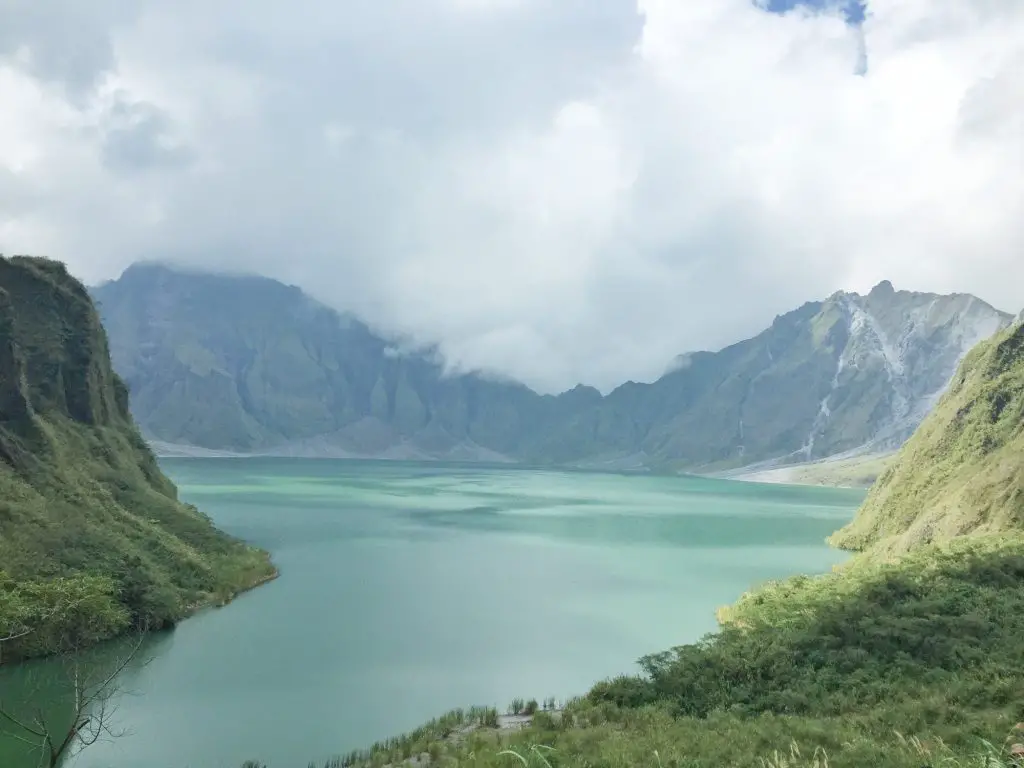 Mount Pinatubo – it is one of the most catastropic volcano that exploded on June 1991 which fatally damaged the vicinity of the volcano. 
It makes the worldwide temperature drop and contributes the ozone reduction. The center of attraction is the awesome crater lake which changes the waters from green, blue green or blue depending of the temperature and the landscapes covered with lahar.
 You can ride a 4×4 or an ATV that was very rocky but once you have seen the view, the bumps that you have been experience will be vanish. 
Ina Poon Bato Church – is one of the most popular tourists spot in Zambales for religious people  because of its miraculous statue of the Virgin Mary prompting the Cathollic Church to dub the image as Ina Poon Bato (Mother of the Lord Stone) dignify in the church.
The image of Ina Poon Bato was remained after the eruption of Mt. Pinatubo and was transferred to a nearby chapel. 
8. Ramon Magsaysay Museum
Ramon Magsaysay Museum – is another top attractions and things to do  in Zambales Philippines.   This museum is the historical ancestral house of the former President of the Republic of the Philippines, Ramon Magsaysay. 
It is located in the town of Castillejos. The memorabilia and some personal remembrance of the former President like pictures and medals, old furnitures, books, appliances, Barong Tagalogs, his vintage car and the Willi Jeep can be seen or displayed in the museum.
He was called " The Champion of Masses " because his heart was very close to the Filipinos and died on a plane crash. 
Mount Tapulao – the tallest mountain in Zambales that is popular for mountain climbing spot with 2, 037 meters above sea level hence making is as one of the tourist spots in Zambales Philippines.
You can hike early in the morning so that you will not experience the heat of the sun and have a trek overnight.
 The trail in going to the mountain is very rocky roads crossing some pine tree forest and mossy forest that is considered as the iconic world tree.
10. Botolan Wildlife Farm
Botolan Wildlife farm – is one of the famous getaways that is a family-run ranch that was built in 2000 where it has 55, 000 sqm. 
It serves as a habitat for a wide range of tropical animals like Heron, Brahminy Kite, Owls, Sun Parakeet, Dove, Ostrich, turkey brown deer, tiger, monkeys and many more.. It is located in Brgy. San Juan, Zambales.