One of the most beautiful garden I have seen is the privately owned Butchart Garden in Vancouver Island  near Victoria, Bristish Columbia.  It has been blooming for over a century with colorful and majestic display of flowers, shrubs and trees.  
It was once a limestone quarry and  is now transformed into a gorgeous botanical garden where locals and visitors alike can enjoy the lush landscape and the serene ambiance. 
Amazing Butchart Garden in Victoria Canada
The Butchart Garden, Victoria is comprised of different themed garden which  includes the Italian Garden, Japanese Garden, Rose Garden, the Sunken Garden and Mediterranian.  The sunken garden features over a 100 flowerbeds , and a lookout point where you have a better view of the overwhelming colors of nature. 
 Enjoy a stroll and smell the fragrant flowers of different varieties of roses at the Rose Garden.  Boasting an impressive walkway with archers filled with roses is sure to leave your mind calm.
Head into the Japanese Garden and pure serenity awaits you.  Majestic maple and beech trees are happy to welcome you.  It is also filled with vibrant display of azaleas, rhododendrons and poppies.  The Italian Garden was once the family's tennis court and turned into a luscious courtyard garden.  
Ornamented with bronze statue and thousands of spring bulbs, as well as a pond filled with flowers, you will never get disappointed with the beauty that surrounds you. They also offer housemade serbato and gelato.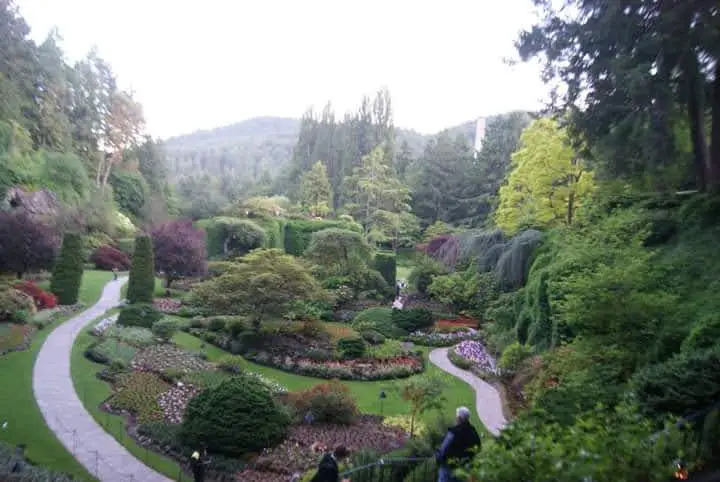 The Butchart Garden, Victoria is open all year round and no matter which season of the year you visit, the garden is always vibrant and gorgeous.  It features rich collection of thousands of bulbs like tulips and daffodils.  
The garden also  boasts different varieties of flowering plants like magnolia,  peony, hydrangea, lobelia, dahlia, begonia, fuchsia, primrose, poinsettia, heather, rose, crocus, daphne, chrysanthemum, cornflower  along with Japanese Maples and other shrubs and trees with rich color of foliage. At winter, display of lights is amazing. 
Stop by at the coffee shop and have a look with their seed and souvenir shop.  Tha garden also have a carousel and children's pavilion.  There is an entrance fee to get in  which is worthwhile if you like  flora because there is a staggering colors to see and the amount of work, care, maintenance and attention to the garden is commendable.
It is now a National Historic Site of Canada, the experience of visiting  the garden is truly amazing.   The dramatic floral display and tranquil setting just make your stress melts away.  Take your moment to stroll around and appreciate the beauty where the grounds comes to life.