Glenwood Springs is well known for its hot springs and it is also a resort city in Colorado. It sits in the rugged Rocky Mountains that is surrounded by the vast White River National Forest. It is also rich in wildlife and promotes Hanging Lake with its distinct aquamarine waters.
It is one of the best small towns in Colorado and a place for some adventure, relaxation, and different activities. Try their amazing hikes to secret lakes, endocrine-pumping theme park, world-class fly fishing, and downhill
skiing.
Here are the best things to do in Glenwood Springs Colorado:
Best Things To Do in Glenwood Springs Colorado ( Top Sights and Attractions )
1. Glenwood Caverns Adventure Park
Glenwood Caverns Adventure Park – is one of the best things to do in Glenwood Springs, Colorado.  It is located on a mountaintop that is attainable only via Gondola. Travelers or tourists will notice the beautiful scenery while you are in the park.
 This park has a 32-foot climbing wall, 4D motion theatre, thrilling rides, a roller coaster along the cliff edge, a Canyon flyer, and Alpine coaster.  Also the Soaring Eagle Zip Ride, a giant swing, and many more fun activities.
You can play a round of Old West-style laser tag, don costumes for souvenir photos and watch a live performance. It is also the home of the Glenwood Troll named Halvor Flowstone.
 You will surely enjoy and have fun all day long with the different activities and attractions at the park with the whole family.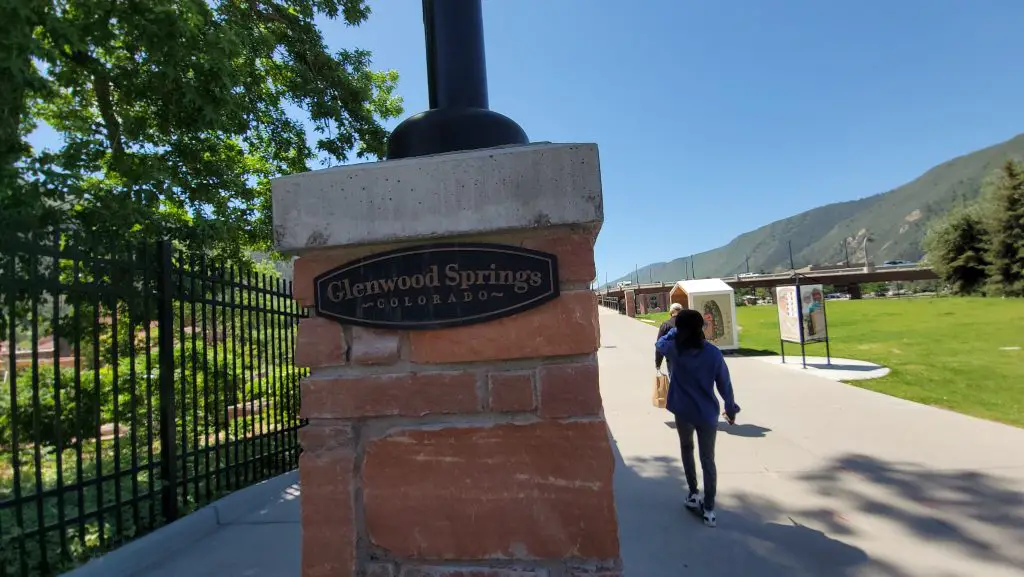 Glenwood Hot Springs Pool – it is a lovely place for a relaxed bath.  It was founded in 1890 and a home to the world's biggest mineral hot spring pool. 
The natural mineral  pool  is also known for its abundant health benefits it can give , especially to relax tensions on the muscles.
If you are going to drink or take a bath in the hot spring pool, it will give you benefits that can be removed from the water. The huge spring pool has 405 feet long and 100 feet wide at the widest point that contains 1,078,000 gallons of water.
The hot tub or the natural therapeutic pool is much smaller at 100 feet long contains 91,000 gallons of water and was kept at a temperature of about 104/40 for calming sore muscles and other body aches.
They rise out of the ground each day with over 3.5 million gallons of water that is mixed with fresh water from the two nearby rivers to fill up the biggest natural hot springs water in the world.
 The water has 15 dissimilar minerals known for skin-renewing properties, cabana rentals, waterslides, and children's pools. Its definitely one of the best things to do in Glenwood Springs Colorado.
3. Hanging Lake, Glenwood Springs Colorado
Hanging Lake – is a very valuable and extraordinary example of a travertine geological formation that is located in the heart of Glenwood Canyon in the White River National Forest. It has a 1.2-mile trail that is abrupt, meticulous, and rocky but rewarding and a backcountry hike.
It hangs on the edge of a mountain and the water in the lake is crystal clear which sustains the waterfalls coming from snow-melt up the mountain. 
You will also find the Spouting Rock which is the most unique sight near the lake that the water appears from the side of a rock.
You can also ride on a bike to the trailhead along the Glenwood Springs Recreation Path. In going to the hanging lake, you need a permit that includes a plane or a bus from Glenwood Springs.   Restrooms and a drinking fountains are also located at the trailhead.
4. Yampah Vapor Caves, Glenwood Springs Colorado
Yampah Vapor Caves – also one of the best things to do in Glenwood Springs Colorado.  The word "yampah" comes from the Ute language which means "big medicines". 
The most popular vapor caves in all of North America were used by the Native Ute Indians as a sanctified place of healing, rituals, natural therapeutic steam, and rejuvenation.
It is an underground vapor-filled cavern and a mineral-rich that is so unique for tourists or travelers because it looks like a sauna.  It is in a cave full of steam from the hot spring waters at about 110 to 112 degrees Fahrenheit. 
The marble benches and slabs are available to sit or lie down.
They also offer health and beauty treatments like spa, massages, facials, herbal body treatments, and private natural mineral baths. You need to have a reservation in order to avail their treatment.
5. Kayaking and White Water Rafting in Glenwood Springs Colorado
Kayaking and White Water Rafting – it is the most breathtaking and dramatic setting in the Colorado River as  it travels in Glenwood Canyon that bounds by cliffs on the side,  tumbles on the river, and flows its way through the canyon to Glenwood Springs.
Rafters and Kayakers are very much excited about riding on paddling Class III and IV rapids, stopping at the riverside hot springs, and floating on the flats where there are many places to swim and splash.
 It is the "Land of Water" with two rivers meeting right in town and two hot springs that rush on the waters with the combination of Roaring Pork and Colorado Rivers that leads to phenomenal chances to kayak, canoe, stand-up paddleboard, swim and go with whitewater rafting.
6. Sunlight Mountain Resort, Glenwood Springs, Colorado
Sunlight Mountain Resort – is an ideal and best-kept place to take your family for a fun day of skiing. It sits on the courtyard of Glenwood Springs is a meager 25 miles south and is the ski area for the whole Roaring Fork Valley.
It is around 1/5 the size of Vails ski slopes and has a huge variety of terrain. A great place for families, friends, or groups that provides tons of summertime activities. 
One of the best things to do in Glenwood Springs, Colorado where also a family-friendly skiing and snowboarding destination for beginners and intermediates.
It is one of the smallest ski areas in Colorado and one of the tiniest busy skiing and soaking all day in a warm natural hot spring water would be a good choice.
7. Iron Mountain Hot Springs, Glenwood Springs ,Colorado
Iron Mountain Hot Springs – one of top sights and attractions in Glenwood Springs .   Is located alongside the Colorado River across from the Gondola at Glenwood Cavern Adventure Park. 
It has 16 natural geothermal hot spring pools that are put wonderfully on the side of a hill overlooking the Colorado River.
Each pool has a different shape, ambiance, and temperature which you are going to choose whether you want a hot pool or a cool pool in which some have pebbles on the bottom for reflexology benefit. 
These relaxing pools have a calming sound like spa music and are surrounded by the extraordinary natural beauty of the Colorado River, Roaring Fork Valley, and the Rocky Mountains. 
It has also a gift shop in which you can buy souvenirs and swimwear and buy some snacks and light meals in Sopris Café.
8. Glenwood Canyon Brewpub
Glenwood Canyon Brewpub – it was built within the historic Hotel Denver on the banks of the Colorado River that holds some of the most distinction of any brewpub in the state where you are going to relax with a cold glass of hand-crafted and locally-made craft beer.
Beer is what really shines at the brewpub which they have 12 brews on tap at any point including Stouts, Ales, Porters, Wheats, Lagers, IPAs, Reds, and many more which are available during seasons and festivals. 
They also provide a broad list of wines, spirits, hand-made cocktails, ciders, and house-made root beers.
Not only beers, but they are also serving foods like IPA Sriracha glazed wings, ale-battered fish and chips, IPA BBQ pulled pork, appetizers, pub grub, soups, salads, sandwiches, burgers, sweet treats, and many more menus to choose from.
9. Colorado Ranch House, Glenwood Springs
Colorado Ranch House – a superb restaurant that is located across the bridge from the Hot Springs Lodge in downtown Glenwood Springs. It is one of the best spots to eat among tourists or travelers.
The décor and food are Western-inspired in which they are serving locally sourced beef, salmon dishes, Rocky Mountain Trout, and also beer.
The dining room is small but warm and pleasant in which you are going to enjoy every bite to eat outside on their patio on Restaurant Row which is the nicest place in the area.
10. Biking Trails in Glenwood Springs Colorado
Biking Trails – is a cyclist's paradise with countless trails and an outdoor playground for every level of experience to those whose passion is biking. 
The well-graded paved paths will love the Glenwood Canyon Recreation Trail and Bike Path which has 16 miles up through Glenwood Canyon along the Colorado River.
If you want a longer journey, try taking the 42-mile Rio Grande Trail from Glenwood Springs to Aspen, an ideal trail for all ages with impressive wildlife species like bald eagles and elk. Boy Scout Trail is a three-mile trail that is said to be the best and you are going to see the picturesque views.
It has a shop in the town if you don't have anything to wear on your trip like gear, bike rentals, need repairs, shuttles, and advice.
More Reading on Colorado, USA